England, 1814

Edmund Percy has been driven from the hurricane-haunted seas of the Caribbean to the heart of England's tranquil Hampshire in search of the Dark Queen foretold to him. He must unriddle the taunting mystery of her past, if he can; and he must use that discovered secret to win her with his most silver persuasions. It seems that all his efforts avail nothing, and the days and minutes allotted to his quest race away. Then fate or Providence slips a last chance into his hand . . .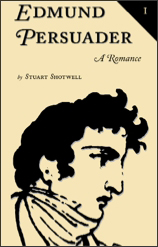 An epic, a romance, and a mystery,
Edmund Persuader
is the tale of a man both blessed and cursed by his powers of persuasion. Those powers seem to perform the greatest wonders when they work him ill, yet fail when he needs them most—until he can emerge from the depths of moral error and climb toward the exaltation of redeeming love.

Paperback
copies $25

Kindle™
Version $4.99


ISBN 978-0-9841032-1-8, 5 ½ x 8 ½
By the author of Tales of Arcadia